Company Brand Stores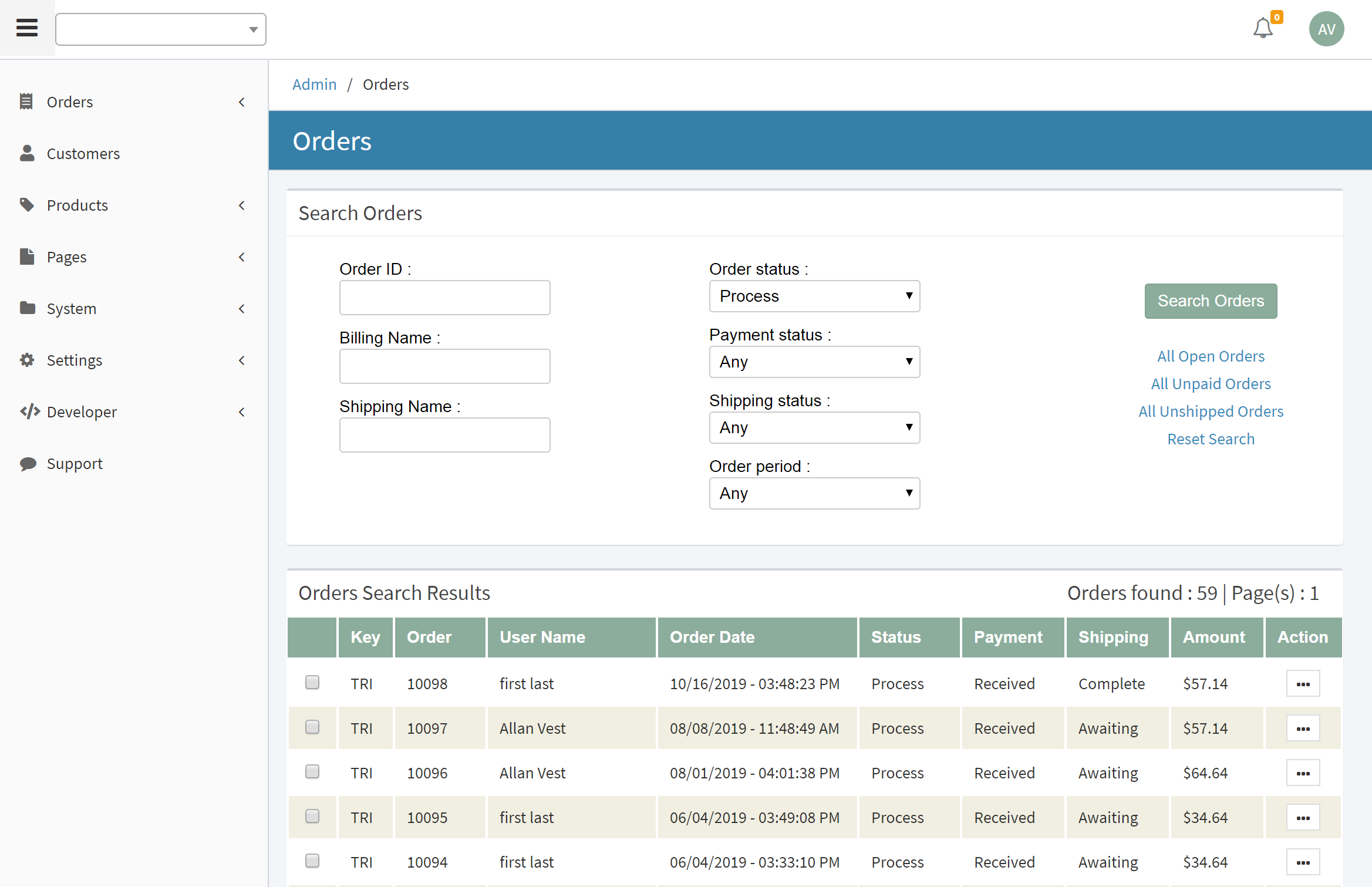 Back-End Administration screen for Orders
Z9 Commerce
---
Z9 Commerce 2.x is the version of our e-commerce software tailored for the needs of "Promotional Product Distributors".
Quick Setup of New Sites
You can quickly setup a "Company Brand Store" for each of your customers and prospects.
Single View of Orders and Customers
You can see all of your orders and customers from one admin screen regardless of how many catalog sites you have.
Master Products List
You create and manage one list of master products that is used across all of your catalog sites. There is no need to repeatedly setup the same products for each site.
Automated Pricing Updates
You can setup pricing rules so that the system will automatically recalculate pricing on each catalog site when the price of a master product is updated.
Automated Product Image Generation
You can upload a client logo and the system will automatically generate the branded product images for you. There is no need to manually create each image.
Asset
Having worked with several of our clients to sell their business, we believe it is important that the customizations, setup, time, money, and effort invested into the software is a key part of what makes your business unique, gives your business a competitive advantage, and should ultimately be an asset to the bottom line of your business.
Time Tested
The software has been running production sites since 2006. That is 14+ years of real world use, experience, and testing. The 2.x version is another major milestone in a long journey. With the 2.x release, there is almost no part of the software that resembles what we started with back in year one. We have taken the lessons learned over our last 14+ years of working on mission critical web applications (include Z9 Commerce itself) and have incorporated that knowledge into how Z9 Commerce is built.
You Own Your Data
We help you get setup with your own RackSpace account to host the software. The software runs on your servers. You own and control the business data.
Integration
The software can be extended to integrate with other internal systems and external vendors.
Mobile Friendly
The online catalog sites are built to be "mobile responsive", which means the display is optimized for a desktop browser and a mobile phone browser.
The admin works on a desktop browser, is optimized for a tablet size screen, and will work nicely on a mobile phone (with horizontal scrolling in some cases).
Multi-Tenant
The software has a "multi-tenant" architecture. This means that one installed instance of the software supports the hosting of multiple store sites.
The advantage of a multi-tenant architecture is that the developers can update a single instance of the software and have all of the sites update at the same time. This saves a lot of time over updating each site individually.
Z9 Support
The software requires some developer support to operate.
By design, to keep the software simple… the technical setup portions of configuring the software are intended to be done by a developer. This makes the software easier to use by your staff and makes the software vastly more flexible when it comes to customizations.
We can work with you to figure out the best number of hours to include in a monthly support plan and then continue to work with you each month to determine how the support hours are to be prioritized.
In addition to setting up and configuring sites, support can be used for building new vendor integrations, creating new reports, adding new custom features, installing updates, etc.
For clients with an active support plan, Z9 support also includes software updates, development server, deployment service, server monitoring, site monitoring, and backup monitoring at no extra charge.
Software Updates Included
Our active support clients receive free software updates. Before starting any new enhancement, we always upgrade to the latest version of the supporting software.
Hosting
The software is "self hosted" on your servers. We work with you to setup a Rackspace account where the servers will be hosted on your account. You pay Rackspace directly for hosting costs.
We have selected Rackspace because they are the biggest enterprise hosting provider that actually has good support. Costs are a little more, but support, while rarely needed, is critical when it is needed.
The starting server setup is three servers.
production application server (your account)
production database server (your account)
development server (our account)
The production application server will handle all requests for the admin site and each online catalog site.
The production database server will host all the databases. One per site and one for the admin site.
The development server will run its own copy of production so that the developers can safely add enhancements and preview/test new updates before they are published.
The development server is dedicated to just your instance of the software. This ensures that your data is completely separate from any other Z9 client.
The next missing piece of the puzzle is the setup, configuration, and management of the RackSpace servers. For that, Z9 provides a "Managed Hosting" service.
Licensing / Pricing
The software includes a back-end admin application and a front-end catalog site application. The admin application has a monthly license fee, includes 5 admin users, and has an additional "per user" fee. The catalog site application has a monthly license fee and each catalog site has a "per domain name" fee that will vary by whether the site includes support for locations or not.
Source Code License
Source code is available with a signed Source Code Non-Disclosure Agreement and purchase of a one time fee Source Code License.